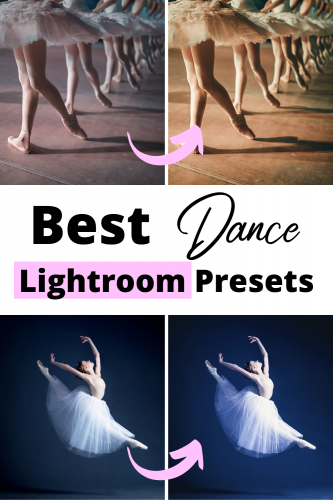 7 Best Dance Lightroom Presets
If you're a dancer, dance studio owner or dance teacher, you definitely want your photos to stand out on social media.
One easy way to add just the right gorgeous look is through using Lightroom presets.
Lightroom presets are kind of like Instagram photos, except that you can use them for any photos (such as for Facebook posts, your website, etc).
You can use Lightroom presets with the free Lightroom mobile app, which is available for iPhone and Android.  If you have an Adobe Creative Cloud subscription, you can use Lightroom on your computer (desktop or laptop).
With Lightroom presets, you can change the look of your photo with literally one click. It's that simple!
Depending on the preset, you can brighten a photo, bring out the pinks, soften the image, etc.
We've put together a list of the best Lightroom presets for dancers. Take a look at the presets and find which one or ones will be perfect for you or your studio!
Please note that some Lightroom presets work for just mobile or desktop while others come in both versions – make sure you check to see if it's the type you want.
Elizabeth Emery is a former dance studio owner. She owned Dancers Unite in Charlotte, NC for 6 years, where she helped run the studio as well as taught dance classes six days a week. She sold her studio to one of her teachers and now dedicates her time helping other dance studio owners as well as dance teachers with her new business, Dance Teacher Finder, which helps pair dance studios with dance instructors. She also holds a Bachelor of Science in Business Administration, and double majored in Business Economics and Marketing. Elizabeth currently splits her time between Charlotte, North Carolina and Salt Lake City, Utah.