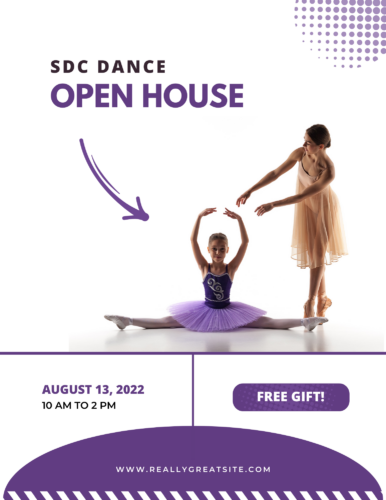 Dance Studio Open House Flyer Template
Are you looking to have an open house this year for your dance studio? This can be a great opportunity for your dance school. When I used to own a dance studio, I held some great open houses. We would sign up a good number of new students. It was also a great time for us to meet families who had signed up for lessons online.
But there is no point in having an open house if you don't get the word out. One way to do that is with flyers. You can put them all over your town. You can hang them up at places like Starbucks, Panera Bread, or any other place that lets you hang up fliers. This could include restaurants, nail salons, grocery stores, and more.
But you might feel like designing a dance studio open house flyer is overwhelming. Luckily, it doesn't have to be if you use an open house flyer template.
Canva
My favorite way to do that is with Canva. Canva is an online graphic design tool. The best thing about it is that is really easy to use. I personally think it is far easier to use than PhotoShop.
You can get a monthly subscription for Canva (click here to get started). And then you can use Canva for many different things for marketing your dance studio. For example, they also have a lot of templates for posts on Facebook, Instagram, and other social media accounts. A lot of them are dance related and could help you easily and quickly create great posts. There are also templates for open houses so you can edit them with dance pictures.
And the monthly subscription gives you lots of different templates to use for flyers, like the one I used in the picture for this blog entry. You can use their tools to edit in your dance studio's information (like the name, address, etc, date of the open house, etc).
You can then print these off on your printer. This is a great option if you don't want to print off that many flyers. By the way, if you have to replace your ink, click here to get a good price on ink cartridges.
Fedex
But what if you want to print off a lot of flyers? Maybe you have a lot of places you want to put the flyer. Which is really great for your dance studio. But might cost you a lot in buying more ink cartridges.
In that case, consider getting your flyers through Fedex. They have easy-to-use design tools, too. But they'll also print off all of your flyers for you. Click here to get started with Fedex.
Individual Template Purchases
And finally, you can purchase some templates individually:
Elizabeth Emery is a former dance studio owner. She owned Dancers Unite in Charlotte, NC for 6 years, where she helped run the studio as well as taught dance classes six days a week. She sold her studio to one of her teachers and now dedicates her time helping other dance studio owners as well as dance teachers with her new business, Dance Teacher Finder, which helps pair dance studios with dance instructors. She also holds a Bachelor of Science in Business Administration, and double majored in Business Economics and Marketing. Elizabeth currently splits her time between Charlotte, North Carolina and Salt Lake City, Utah.