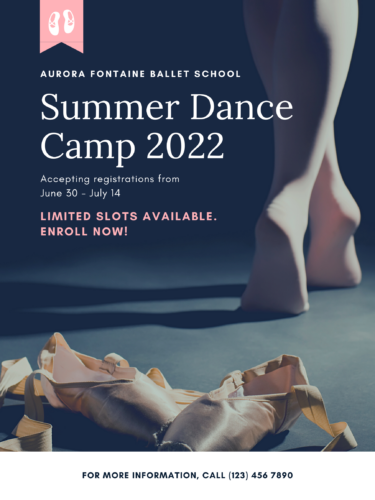 How to Get a Dance Camp Flyer Template
Are you running any dance camps this summer? Dance camps can be a great way to earn money over the summer months when you aren't running your regular dance class schedule. It is a good way to keep your students dancing over the summer, too.
But it can also be a great way to get new students. It is a great way for them to try your dance studio and see if they want to sign up in the fall. But if you want new students, they need to know about your dance camp.
One way to let students know about your dance camps is with flyers. You can put them all over town. Panera Bread and Starbucks are two places that let you hang up fliers. There may be other places around town that let you hang up flyers, too. Think about places you go – do any of them have fliers hanging up? This could be a local restaurant, coffee shop, grocery store, nail salon, etc. Get creative, because this is a wonderful way you can let people know about your summer camp.
But you might find creating a flyer overwhelming. Luckily, there are templates you can use that make it easier.
One place to get these templates is through Fedex Office. They give you templates you can use, and then they will print the flyers off for you. You can get started with Fedex by clicking here. When I owned a studio, I would use Fedex to print off marketing materials.
You can also individually buy dance camp flyers and then customize them yourselves, like these:
But remember, if you chose this route, you will need to print these off yourselves. So make sure you have enough ink!
Elizabeth Emery is a former dance studio owner. She owned Dancers Unite in Charlotte, NC for 6 years, where she helped run the studio as well as taught dance classes six days a week. She sold her studio to one of her teachers and now dedicates her time helping other dance studio owners as well as dance teachers with her new business, Dance Teacher Finder, which helps pair dance studios with dance instructors. She also holds a Bachelor of Science in Business Administration, and double majored in Business Economics and Marketing. Elizabeth currently splits her time between Charlotte, North Carolina and Salt Lake City, Utah.