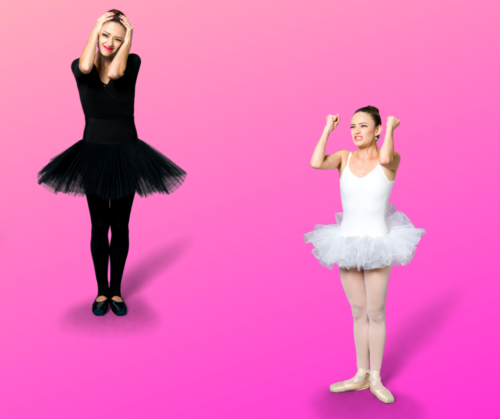 5 Reasons Your Website is Failing Your Dance Studio
As a former dance studio owner, I know how it is a dance studio owner: you obsess over every little detail, wondering if there's anything you could be doing differently that would help grow your business.  But what if I told you the one thing holding you back could be your website?  When you think about reasons your dance studio doesn't have the enrollment numbers you would like, you might think of things more dance related such as dance class offerings, your dance instructors, a change in the structure of your dance competition, etc. – and certainly, all of that is important.  But you need to get these students in your dance studio first before you can impress them.  And the best way to do that is the internet.  I mean, think about your own life.  When there is a service you need, where do you turn to?  Google!  And from there, you get to a website.
But unfortunately, no matter how great your dance studio is, your dance studio website could be turning away students without you even knowing about it.  Because I was always heavily involved in the dance studio's website when I did have a dance studio and since selling my dance studio four years ago and turning to a business that is completely about websites, I have learned some things I can share with you, so hopefully you can turn your website from something that is turning customers away to something that is getting your dance studio to the enrollment numbers your dance studio deserves:
It's too slow: Did you know that, according to Kissmetrics, 40% of consumers leave a website if takes more than 3 seconds to load?  Do you know how many potential customers you are losing each day if your website is slow? Just use this test and see for yourself how your website measures up.  And if it fails, then it may be time to get a new one. You can see further statistics on this at Dance Studio Website Wizard – and if you get a new website for your dance studio through Dance Studio Website Wizard, you can solve your speed problem.
It doesn't show up right on mobile phones: Did you know that a lot of people use their mobile phone to go online?  You may be one of them and if you are, you are not alone; according to Statista, 63.4% of internet usage is done through mobile phones.  Unfortunately, a lot of websites are designed to look good on laptops and desktops and not mobile phones. Do you know if your website looks good a cell phone?  Get out your cell phone right now and check it out. Is your website hard to navigate on your cell phone? Are things cut off in the small screen? If you so, you are potentially scaring off over half the people who come on your website.  If you get a new website designed by Dance Studio Website Wizard, you can be assured that your website will look good on a cell phone.
Your website isn't secure: Website security is obviously incredibly important, which is why you'll see this website and many other websites have "HTTPS" at the beginning of the url instead of "HTTP".  HTTPS, or Hypertext Transfer Protocol Secure, basically adds a layer of protection to your website making it harder for others to capture sensitive information on your website.  By not using HTTPS, not only are you putting yourself at risk security wise, you are also letting your customers know you're putting them at risk. See for yourself by going on your website.  Look in the top left hand corner of your website, right by your URL. Does it say "Not secure" if you are using Chrome? If you are using Mozilla, does it have an "i" button by the URL and if you click on it does it say "Connection is not secure"?  Guess what – everyone else can see it, too. You can buy an SSL certificate to take care of that here. SSL is also included in the price of websites designed by Dance Studio Website Wizard.
People can't find it when searching in Google: When you google "dance studios in [insert name of your city]", does your dance studio show up high?  Does it take you awhile to find your dance school in Google? There could be a few reasons for this; first of all, speed does affect your ranking in Google, so if your site scored poorly in the speed test, that could be why.  There are also other ways you can get your website higher; you could consider using the services of Online Search Wizard.  This a service provided by Dance Studio Website Wizard where all of your search engine needs are taken care of; you'll be able to sit back and watch your ranking jump over your competition without having to do any work!  But you'll have to sign up now; in order to avoid conflicts of interest, they only work with one studio per area so you'll need to sign up for these services before one of your competitors does (which obviously you do not want!). 
It's confusing: Read over your website pretending you are not a studio owner and instead you are a parent.  Does the information make sense to you? Or do you use a lot of phrases you understand being a dance studio owner but people without a dance background wouldn't understand?  For example, if you list your classes, do you list "B/T/J" instead of "Ballet/Tap/Jazz"? You might understand what it means, and someone familiar with your studio might know what it means, but a parent wanting to sign their child up for dance lessons may have no idea what that means.  And part of the point of having a dance studio website is selling your dance studio to brand new customers, so make sure it is accessible.
Elizabeth Emery is a former dance studio owner. She owned Dancers Unite in Charlotte, NC for 6 years, where she helped run the studio as well as taught dance classes six days a week. She sold her studio to one of her teachers and now dedicates her time helping other dance studio owners as well as dance teachers with her new business, Dance Teacher Finder, which helps pair dance studios with dance instructors. She also holds a Bachelor of Science in Business Administration, and double majored in Business Economics and Marketing. Elizabeth currently splits her time between Charlotte, North Carolina and Salt Lake City, Utah.